Sip & Smoke Event – Lit Lounge – Friday, June 12
Just got back from vacation and noticed this upcoming event – check it out!
Smoke & Sip – A Cigar Blending Experience
We've still got about a dozen of the 30 spaces left for this one-of-a-kind event, taking place in Lit on Friday, June 12 from 6-8pm. We'll be joined by La Aurora's Master Blender, Manuel Inoa, as we do an in-depth blending experience, along with a Scotch whisky tasting hosted by Glenmorangie's Jon Trainer.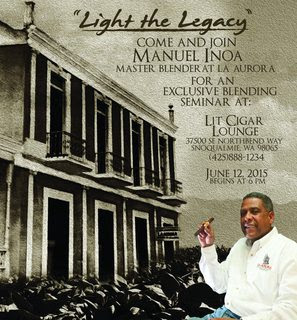 Tickets are $60 and include:
– This La Aurora Blender's kit, featuring a lighter, cutter and six cigars designed to showcase each component and wrapper of the famous Preferidos line.
– A flight of four Glenmorangie Single Malts, including this years Special Edition Tusaìl.
– The opportunity to purchase a special 10 count box of Preferidos for only $60! After completing the blending seminar, you'll be able to customize this box to include your favorite Preferidos edition!
– Prize drawings including a Miami Cigar Co. 25th Anniversary Humidor
Tickets can be purchased from your Lit Tobacconist and may not last long. La Aurora is the oldest cigar manufacturer in the Dominican Republic, currently celebrating their 111th Anniversary, so needless to say we're excited to have Manuel traveling all the way to Lit to teach us about the secrets of cigar blending!